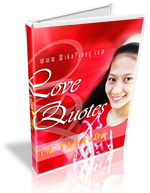 Publisher: Wikapinoy.com
Price:
39.99 USD
Sale Price: $ 29.99

Love Quotes in Tagalog Online
A Online Video Segment on Love and Courtship
Love Qutes in Tagalog builds on the success ofl Love Quotes in Cebuano the first of the family of video-based learning products Wikapinoy.com has to offer. Expanded from the original now with close to two hundred phrases to learn. Love Quotes in Tagalog it will help you express your feelings better to your Filipina loved one.
Its simple yet highly effective way of presenting phrases will make learning very easy. Go through the chapters with excitement as the video takes you from the "Getting to Know" phrases to expressing your willingness to marry The One!

Features:
Easy to learn
Phrases you learn are relevant
Close to 200 phrases to Watch in Video
Quick and Simple way to learn to express yourself in Tagalog

Click on the video below to see the Samples






Get a copy now and start understanding and communicating better to your Filipino Loved Ones!

*Order right now and enjoy this video for only 19.99 USD.


*Good only for the first few subscrbers.




Related Products

Love Quotes in Cebuano