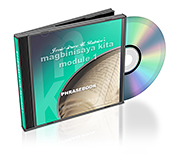 Publisher: Languagelinks
Author: Dr.Jessie Grace U. Rubrico
Price:
19.99 USD
FREE SHIPPING
ISBN: 971-93021-1-9
*
Wikapinoy.com
is an authorized re-seller of Languagelinks.org
Magbinisaya Kita Phrasebook Audio CD

The Magbinsaya Kita Phrasebook
This 105-section ebook contains common expressions and useful phrases which come in handy when communicating in Bisaya/Cebuano. The sections are structured so that the learners can expand a given expression. Deriving other expressions from a given expression is an effective method of putting a handle on the language. A good exercise for those who are adventuresome and are looking forward to learning the language.
Another feature of this phrasebook is the grouping together of related phrase and terms. Learning by association can be fun and easy!
A modicum of grammatical patterns are presented in this phrasebook, this prepares interested learners for the Magbinisaya Kita Course 1.
This is a companion CD for the
Magbinisaya Kita Phrasebook 1 e-Book

Ask more about it

Related Products

Magbinisaya Kita Phrasebook 1
Magbinisaya Kita Course 1
Magbinisaya Kita Primer 1