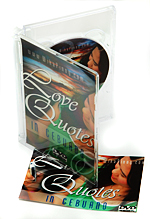 Publisher: Wikapinoy.com
Price:
39.99 USD
Sale Price: 29.99

Love Quotes in Cebuano Online
A Online Video Segment on Love and Courtship
Love Qutes in Cebuano is the first release among the family of video-based learning products Wikapinoy.com has to offer. With close to a hundred phrases to learn. Love Quotes in Cebuano it will help you express your feelings better to your Cebuano loved one.
Its simple yet highly effective way of presenting phrases will make learning very easy. Go through the chapters with excitement as the video takes you from the "Getting to Know" phrases to expressing your willingness to marry The One!

Click on the video below to see the Samples


Related Products

Love Quotes in Tagalog
Magbinisaya Kita Course 1
Magbinisaya Primer 1
An Introduction to Cebuano ( An Online Course )
Magbinisaya Kita Phrasebook 1